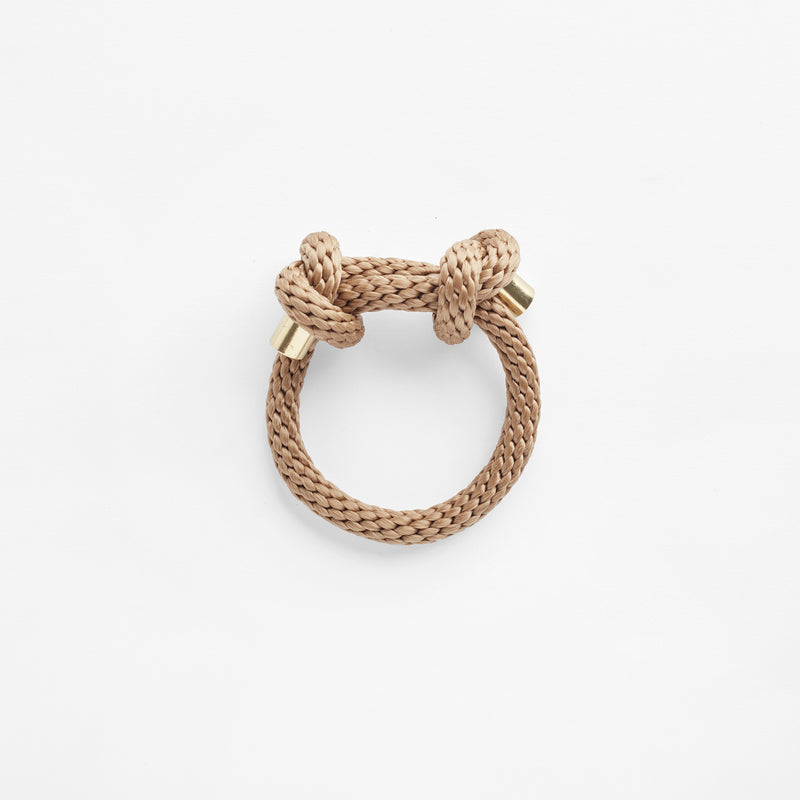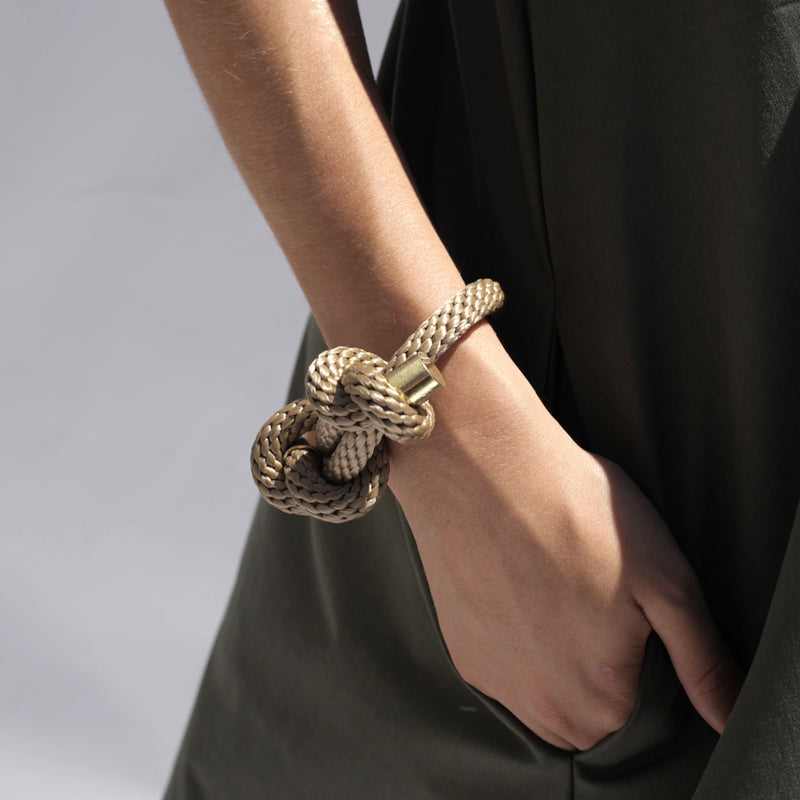 Sacred Knot bracelet
15.000 KD
-Liquid error (snippets/product-price line 26): divided by 0%
Drawing on the organic quality of rope in its purest form, the Sacred Knot is a symbol of the interconnectedness of all things. It is a reminder of a basic law of the universe: that each thing has its partner and its opposite. This simple but powerful symbol will remind you to treasure your sacred bonds, but also to look for opportunity in contrasts.
Material Detail

Thin Rope embellished with gold caps. This is an adjustable bracelet, can be tightened and loosened on the wrist accordingly.
The innovative and sculptural use of locally produced and re-purposed rope.
This product weighs 22g and is adjustable.
The Pichulik Signature Collection is a curated selection of statement jewellery. Each piece tells a story through exploring different embellishment styles, and the symbolic use of stones and colour, all centered around the base material of rope. The rope is beaded and wrapped, collaged with semi-precious stones, assembled with shells and layered to create talismanic sculptural forms.
PICHULIK is an ethical jewellery, accessories atelier based in Cape Town, South Africa. Rooted in Africa, and inspired by ancient traditions and cultures around the world, PICHULIK seeks to impart sacred feminine wisdom through its unique and intentional designs. Each piece is a talisman, handcrafted from unexpected, organic materials into distinctive forms that share the stories of brave women and celebrate empowering feminine narratives. Each collection captures a different chapter in a heroine's journey – an odyssey imbued with mythology, symbolism and transformation.
The distinguishing components of any PICHULIK jewellery piece are the innovative and sculptural use of locally produced and re-purposed rope, embellished with a variety of unique cast and found exotic materials.
The PICHULIK team is a pan-African group of spirited women who create everything by hand in flagship studio at the centre of Cape Town's creative East City Precinct.
Led by Founder and Creative Director, Katherine-Mary Pichulik, every jewellery piece is made by a single artist, from start to finish mastering a selection of crafting and embellishing skills.
PICHULIK employs women, collaborates with women, and outsources to local women-owned small businesses, to promote job creation and economic activity in local communities, and champion and augment women's earning capacity.