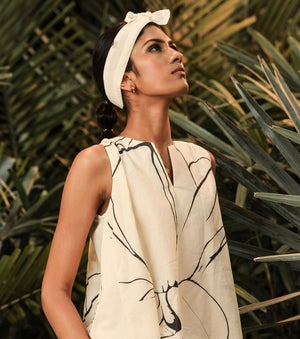 Reminiscence Top
Tomorrow seems bright. A sleeveless white floral top with a v-neck and gathers at back to ease you into reminiscing about a future past. Comes with lining. Handcrafted in mul cotton.
 Handcrafted in India


Completely lined

Colour: White
Kharakapas products are handcrafted and ethically manufactured with pure homegrown materials and superlative quality which will last decades and still look timeless. Their design philosophy revolves around the idea of minimalism, clean cuts, and earthy tones.