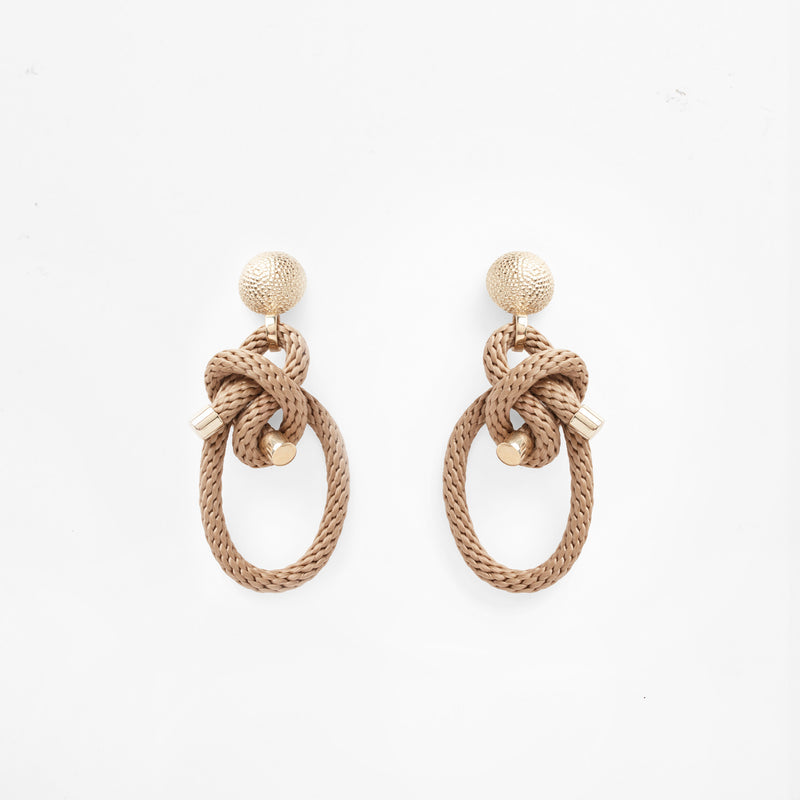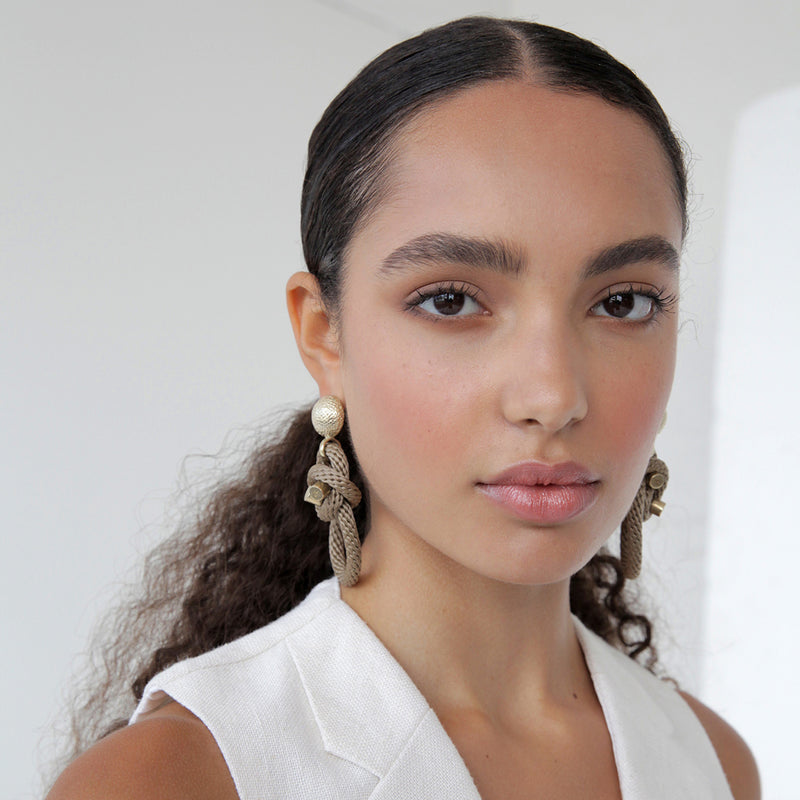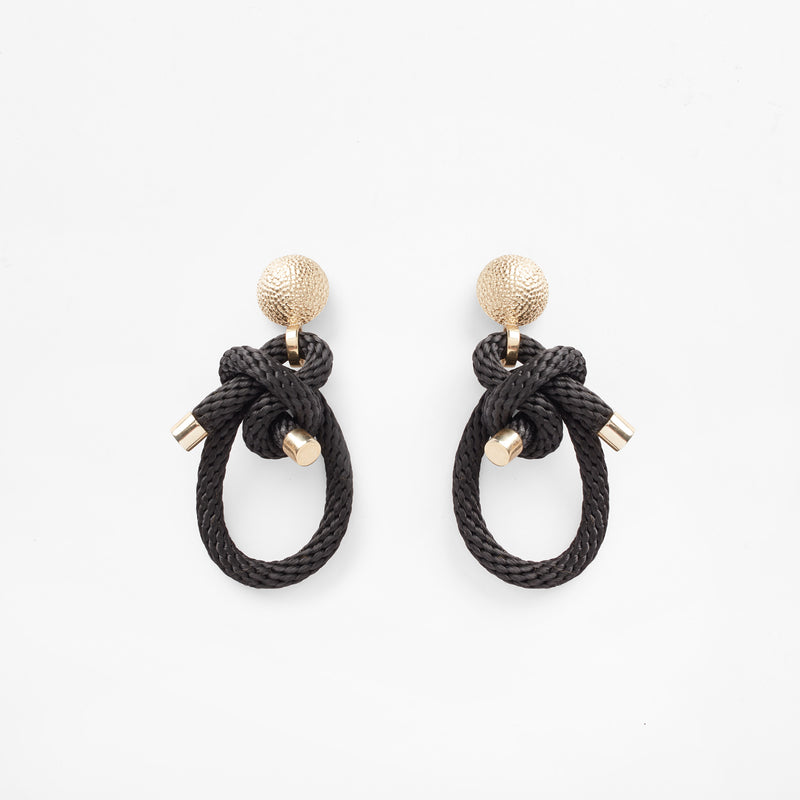 Shimenawa earrings
Shimenawa are the twisted ropes used to demarcate sacred spaces in Shintoism. May these earrings protect and celebrate the places you inhabit, and ward off that which does not honour you. 
Material Detail
Shaped rope earrings, with knot detail, custom brass finishes and titanium pin.
Jewellers
 brass is composed of Copper and Zinc. Brass has metaphysical healing properties to boost the immune system and give courage.
Titanium Pins are the most biocompatible hypoallergenic element available. It will not irritate even the most sensitive skin. Titanium is inert and non-reactive to almost all chemicals and will never corrode, tarnish or rust
These earrings weigh 12 grams and are 9 cm in length.
The collection celebrates the regenerative forces of the cycles of rebirth. Like the sesen, the lotus flower depicted in ancient Egyptian artworks, we too can emerge at daybreak wading through the mud and water to greet the sun. Silhouettes are sculptural, monolithic and timeless. The palette and materials are elemental and primordial. Each piece is talismanic, intentioned to protect the wearer and ward off negative forces during these transitional times. In Nascent, ancient wisdom greets the temporal with the sage of the eternal.
PICHULIK is an ethical jewellery, accessories atelier based in Cape Town, South Africa. Rooted in Africa, and inspired by ancient traditions and cultures around the world, PICHULIK seeks to impart sacred feminine wisdom through its unique and intentional designs. Each piece is a talisman, handcrafted from unexpected, organic materials into distinctive forms that share the stories of brave women and celebrate empowering feminine narratives. Each collection captures a different chapter in a heroine's journey – an odyssey imbued with mythology, symbolism and transformation.
The distinguishing components of any PICHULIK jewellery piece are the innovative and sculptural use of locally produced and re-purposed rope, embellished with a variety of unique cast and found exotic materials.
The PICHULIK team is a pan-African group of spirited women who create everything by hand in flagship studio at the centre of Cape Town's creative East City Precinct.
Led by Founder and Creative Director, Katherine-Mary Pichulik, every jewellery piece is made by a single artist, from start to finish mastering a selection of crafting and embellishing skills.
PICHULIK employs women, collaborates with women, and outsources to local women-owned small businesses, to promote job creation and economic activity in local communities, and champion and augment women's earning capacity.